Click here to see all sponsors.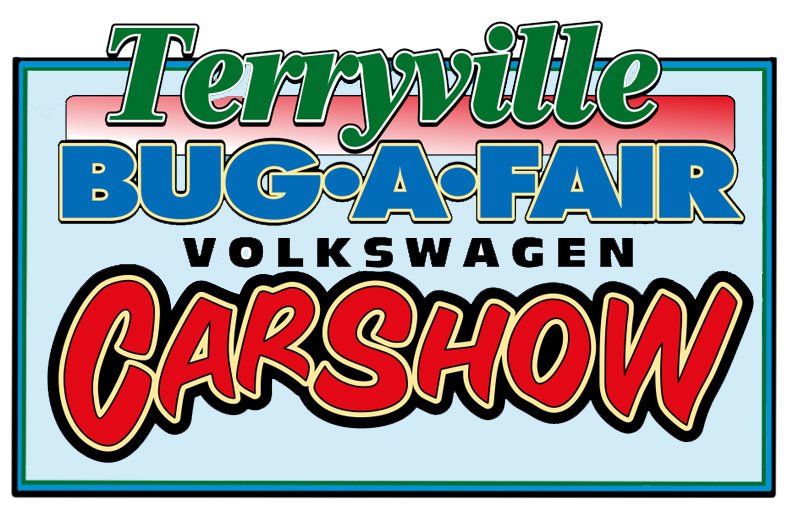 DATE:
FATHERS DAY!
The Annual Terryville Bug-A-Fair will be held on Father's Day in June at the Terryville Lions Fairgrounds 171 Town Hill Rd.Terryville Ct. 06786 from 9:00 am to 3:30pm. (Scroll to the bottom of the page for all maps and access routes)
Last year was our biggest Bug-A-Fair yet with 50+ Campers, 390 Show Cars, 80 Swap Meet Vendors, and over 1200 Spectators. A new attendance record!
All Show Cars must enter show under it's own power. No show car will be allowed in under tow, on a flat bed, or trailer. No Exceptions!!!
No Trailers will be allowed in the show car entrance. Please unload your show vehicle in the spectator parking lot area and drive your VW into the show. We need all the extra space we can get for the show plus it's for your safety and ours. Thank you for your cooperation!
Saturday Night Early Swap Meet Set-ups. Vendors who want to set up the night before must preregister with Bill Arute (860)395-9964 or bill@ctvwa.org. Cost for early set up is $100 for swap space plus $35 for camping (includes electrical hook-up). No vendor after 9pm Saturday will be allow in swap area. No Exceptions!!!
REGISTRATION - JUDGING TIMES
Car registration opens at 9:am, judging starts at 12 noon and awards will begin by 3:30pm. The show also has a huge swap meet with vendors selling new and used parts, toys, t-shrits and automobilia. If your looking for that special hard to find part or need to unload some of your extra VW stuff this is the place to be at!
JUDGING CLASSES
There are 40 show car classes with 1st, 2nd, and 3rd place awards for both Air-Cooled and Water-Cooled VW's plus 21 special awards and Best of Show trophies for Air-Cooled Stock, Air-Cooled Custom, and Water-Cooled.
Cars are judged using a point system based on it's condition of Exterior, Interior, Chassis/Pan, Engine, Trunk Area and Display (optional). Please have your Hoods and Deck Lids open for judges to get a good look, Convertibles please have your tops in closed position.
FOOD
Breakfast and lunch will be available Sunday for purchase provided by the Terryville Lions Club. All proceeds go to to the Lions Club.
CAMPING SATURDAY NIGHT
There's also plenty of camping space available Saturday night for those who want to circle their wagens together with other VW enthusiasts and tell a story or two. Food will also be available for purchase from 5:pm to 7:pm at the Lions booth Saturday night.
HOW MUCH DOES IT COST?
Show Car and Driver----- $20
Spectator Admission-------$10
Camping per Vehicle-------$15
Show Shirt------------------$20
Show Car Classes 1st, 2nd, and 3rd Place
| | |
| --- | --- |
| A. Stock to 53 | U. Water-Cooled A-2 Modified |
| B. Stock 53 to 57 | V. Water-Cooled A-3 Stock |
| C. Stock 58 to 64 | W. Water-Cooled A-3 Modified |
| D. Stock 65 to 67 | X. Water-Cooled Full Custom |
| E. Stock 68 and Up | Y. Type 181 Thing |
| F. Mild Custom to 67 | Z. Type 3&4 |
| G. Mild Custom 68 and Up | AA. Water-Cooled A-7 and Up |
| H. Radical Custom | BB. New Beetle |
| I. Beetle Convertible to 72 | CC. Daily Driver Air-Cooled Pre 68 |
| J. Beetle Convertible 73 to 79 | DD. Dune Buggy |
| K. Ghia Convertible | EE. New Beetle Custom |
| L. Ghia Hardtop | FF. Water-Cooled A-4 Stock |
| M. Special Interest, Kit Cars, & Trikes | GG. Water-Cooled A-4 Modified |
| N. Baja and Rails | HH. Super Beetle |
| O. Transporters to 67 | II. Water-Cooled A-5 Stock |
| P. Transporters 68 to 79 | JJ. Water-Cooled A-5 Modified |
| Q. Transporters 80 and Up including Eurovan | KK. Volksrods |
| R. Water-Cooled A-1 Stock | LL. Daily Driver Air-Cooled 68 and Up |
| S. Water-Cooled A-1 Modified | MM. Water-Cooled A-6 |
| T. Water-Cooled A-2 Stock | OO. German Non-VW |
Special Awards Air-Cooled
| | |
| --- | --- |
| Long Distance | Terryville Lions Choice |
| Best Engine Stock | Most Original |
| Best Engine Custom | Most Patina |
| Directors Choice Stock | Survivor |
| Directors Choice Custom | Barn Find |
Special Awards Water-Cooled
Best Display
Best Passat
Best Engine
Best Caddy
Best Paint
Best VW Other
Best Interior
Best Convertible
Best Sirocco
Most Original
Best Corrado
Best Of Show Trophies (Silver Bowl)
Air-Cooled Stock
Air-Cooled Custom
Water-cooled
FREQUENTLY ASKED QUESTIONS (FAQS)
Friendly leashed dogs are permitted but must be tended to. Please pick up after your pooch!

There is No ATM machine on fairgrounds so bring cash. I'm sure you find an ATM off site in town.

Camping area gate will open Saturday afternoon at 2:pm. Lions Club will come by later to collect camping fee, $15 per vehicle.

Food and beverages will be available for purchase Saturday night from 5 to 7:pm at the Lions Club booth.

PLEASE SUPPORT OUR SPONSORS
Without their help we couldn't do this show!
Mitchell Volkswagen, Simsbury, Ct. mitchellvw.com Dealer
Valley Imported, Canton, Ct. 860-693-0747 Service
Piperbus Automotive Clinton, Ct. 860-969-4420 Service
Freccia Brothers Greenwich, Ct. 203-869-2334 Service
Stan's Classic Natic, Ma. 508-333-7813 Service
Cardone & Daughter Old Saybrook, Ct. 860-664-0727 Service
John's Car Corner Westminster, Vt. 802-722-3180 Service
Masterseries Plymouth, Ct. 860-283-5256 Paints
EMI Parts Clinton, Ct. 860-669-5733 Parts
Vintage Volkswagen Club of America www.vvwca.com Club
Northeast VW Club, facebook.com/groups/nevwc@north_east_vw_club
Shoreline Antique Auto Connection, commongear@aol.com Newsletter
Ink Spot Thomaston, Ct. 860-283-5462 Our Printer


Special thanks goes out to the Terryville Lions Club for all their help running this event and supporting the VW Hobby over the last 30 years! All show proceeds go to the Terryville Lions Club and their local charities.

For additinal information please contact Bill Arute 860-395-9964 or bill@ctvwa.org or Jeff McBride jeff@ctvwa.org

Connecticut Volkswagen Association http://www.ctvwa.org


SHOW CARS and STAFF ENTRANCE ACCESS ONLY
SPECTATORS, VENDORS, TRAILERS, ALL VISITORS

ACCESS and EXIT ONLY





Click here to see all sponsors.